1.     EU starts trade negotiations with Thailand
The EU and Thailand have resumed free trade negotiations which were halted in 2014 due to a military coup. As Europe seeks to expand its clean energy portfolio in areas such as electric vehicles, renewable energy and silicon chips.
The EU has existing trade agreements with Singapore and Vietnam in South East Asia. They are aiming to conclude the talks with an agreement by 2025.
The EU is Thailand's second largest export destination accounting for 14% of exports. Europe represents 10% of foreign investment into Thailand.
Thailand is seeking to remove tariffs on electric vehicles and components on exports to the EU and lower the import cost of machinery & chemicals from the EU.
---
2.     Philippines about to conclude free trade deal with South Korea
The Philippines Department of Trade has announced that the free trade deal with South Korea is in its final stages of negotiations.
The Philippines is also trying to negotiation an agreement with India and the United Arab Emirates, it said in an announcement.
In addition, last month the Philippines entered into the Regional Comprehensive Economic Partnership (RCEP) Agreement which gives access to 15 partner countries such as Australia, China, Japan, South Korea, New Zealand, and the 10 members of the Association of Southeast Asian Nations.
---
Trade Horizons advisors are market entry experts: our team of in-country experts assist companies to export, import and enter new locations by using strategies that have stood the test of time and evidence-based advice. Trade Horizons assists companies to plan to distribute and deliver goods or services to a new target market. Contact one of our experts today.
---
3.     Tranche of new EU legislation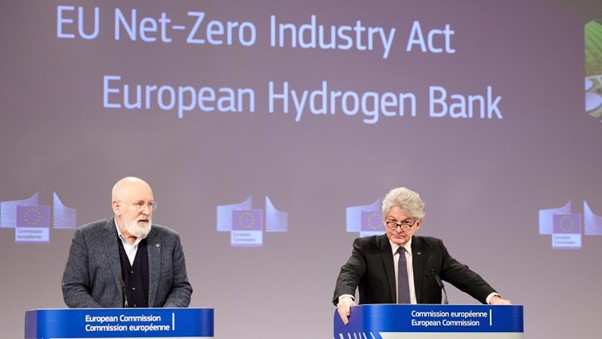 The EU will soon be implementing two new pieces of legislation being Net-Zero Industry Act and Critical Raw Materials Act. The Net Zero Industry Act sets the goal of producing 40% of the technology it needs to achieve 2030 climate targets. For example wind turbines, heat pumps, solar panels and renewable hydrogen.
The purpose of the Critical Raw Materials Act is to reduce reliance on China by setting targets for the production, refining and recycling of key raw materials such as rare earths and minerals required for electric batteries, for example Lithium.
Theoretically this could signal a cooperative partnership between the US and EU if rumoured free trade conversations progress.
However, if the EU is citing independence from China as a reason for the legislation it strikes a question about Thailand and the previous article – China is Thailand's top foreign investor.
---
4.     UK top recipient of FDI
The UK has topped a new FDI chart produced by the National Statistical Service of Georgia followed by Spain, the US and Netherlands.
The largest attracting sectors were finance followed by real estate and water supply.
---
5.     India FDI down
Taj Mahal by Sylwia Bartyzel via Unsplash
India broke FDI records in 2021-2022 at nearly $85 billion inbound however FDI fell 15% from April to December due to global macro uncertainty.
Singapore and Mauritius have historically been the top investors in India with technology as the top recipient sector.
As global supply chains seeks to diversify away from China, India is generally thought to be an adequate and suitable alternative particularly for research and development, manufacturing and service sectors. The opening up of India with the current Government has encouraged and rewarded foreign investment.