1.     Egypt's green hydrogen tops charts
Egypt has reported $8 billion in foreign investment in 2022/23, an increase of 8.1%. Oil and petrol investments increased whilst the sale of assets to non-residents decreased. Services was the top attracting sector followed by industrial and construction.
Another article says Egypt attracted the most mega projects globally. A mega project is identified as being worth more than $1 billion. The increase in FDI is due to 17 green hydrogen projects which make up 97% of Egypt inbound FDI in 2022.
Egypt has set its sights on green hydrogen after finding success with some renewable energy projects. The Egyptian Government has passed legislation that makes investing in green hydrogen more attractive by implementing tax incentives on VAT and customs, regulatory exemptions on import & export, and the granting of golden licences which approve land allocation, building permits & management approval in one step.
---
Trade Horizons advisors are market entry experts: our team of in-country experts assist companies to export, import and enter new locations by using strategies that have stood the test of time and evidence-based advice. Trade Horizons assists companies to plan to distribute and deliver goods or services to a new target market. Contact one of our experts today.
---
2.     Saudi FDI up 10%
Saudi Arabia has reported a 10% increase in FDI in the first quarter of 2023 compared to 2022 with a GDP growth of 3.8%.
The Saudi Government department responsible for cities and technology, MODON, reports that 1,226 projects were invested in, mostly from Egypt, Jordan, India, the US, and the UK with the main sector manufacturing of metal, rubber and plastic, food, minerals and chemicals.
Jeddah was the top attracting city with 30% of total projects, followed by Al-Kharj with 13%. The food sector was the most popular followed by energy, chemicals, plastics and machinery respectively.
MODON has announced the launch of an Oasis project in Yanbu over an area of 500,000 square meters.
---
3.     Panasonic' Indian EV battery plant
Panasonic has announced plans to expand in India with a new battery manufacturing plant under the Indian Government's production linked incentive scheme.
Panasonic officials visited India in July to discuss supplying Indian car manufacturers with batteries as part of the plan such as Mahindra & Mahindra, Tata Motors and the Volkswagen group.
Texan electric car manufacturer Tesla is Panasonic's largest customer and has announced it wants to enter the Indian market.
Panasonic's Indian head office is in Gurugram, Haryana.
At the same time, Panasonic has announced it will be providing electric vehicle batteries to Subaru.
---
4.     Gov. touts trade mission to Vietnam
The Governor of Nebraska Jim Pillen has led a delegation of 20 government, business and education representatives to Vietnam in the state's latest trade mission. It is Governor Pillen's first trade mission.
Governor Pillen met the Prime Minister of Vietnam. The trip's purpose over the week was to discuss the future of agriculture, manufacturing and education and bilateral cooperation.
Nebraska exports food such as corn gluten, soybean meal, distillers' grains, dairy products, eggs, beans, pork and beef to Vietnam.
The delegation met with Vietnamese government representatives in foreign affairs, industry and trade, agriculture and rural development.
---
5.     China rare minerals export ban
Germanium and Gallium are not rare earth minerals but by-products of the refining process of other metals. Germanium is a by-product of zinc production and Gallium is a by-product of processing bauxite & zinc ores.
China produces 60% of the world's Germanium and 80% of the world's Gallium. Germanium is used in fibre optic products and night-vision goggles, while gallium is a critical material for electronics and semiconductors, missile systems and solar cells.
China has announced an export ban on both of these metals from 1 August 2023 to prevent the US and Europe from competing in the global supply chain. Commentators speculate the export bans are a response to the US Chips Act.
Since Australia has the largest zinc and Guinea has the most bauxite deposits, it would be logical to assume other countries could start processing the raw minerals to produce Germanium and Gallium to compete with China.
---
6.     S. Korea, Africa discuss enhanced trade, industry ties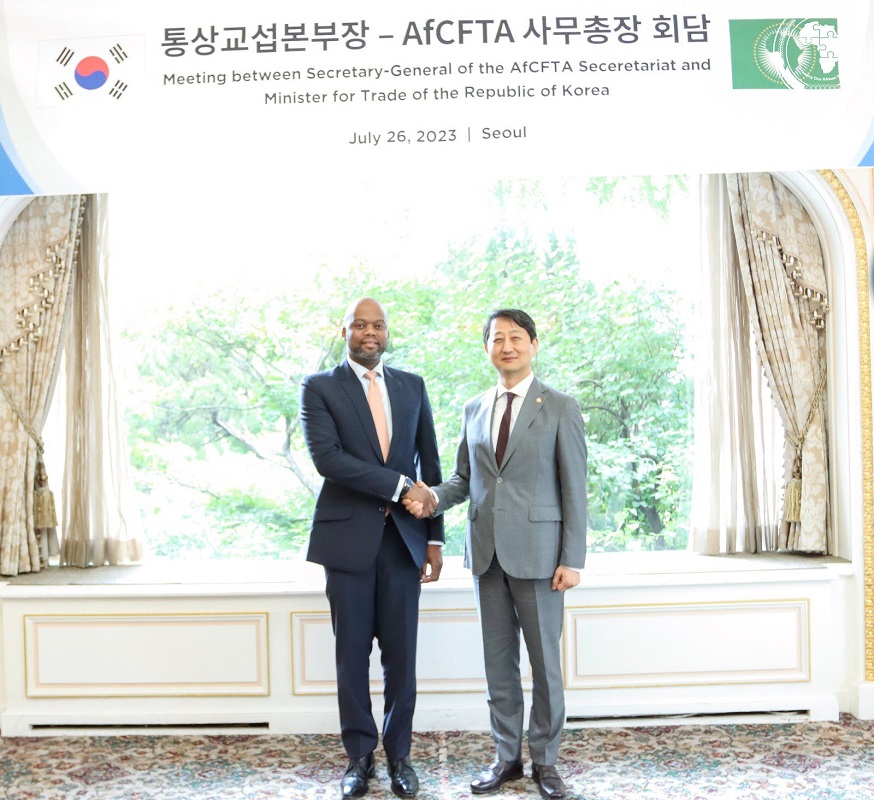 The African Continental Free Trade Area (AfCFTA) is a free trade area that includes most of Africa. It came into effect in 2021 and is the largest free trade area by number of member states, covering 1.3 billion people in 55 member states.
The Chief of AfCFTA Wamkele Mene travelled to Seoul to meet with South Korean Trade Minister Ahn Duk to discuss ways to enhance and increase trade.
Bilateral trade between AfCFTA and South Korea was US$20 billion in 2018.
---
7.     Israel Vietnam new FTA
Israel and Vietnam have signed a free trade agreement in Israel after 7 years of negotiations. Bilateral trade rose 18% last year to $2.2 billion.
Israel exports electronics and machinery, chemicals, minerals, technological services to Vietnam. Vietnam exports food, coffee, natural products, textiles and shoes to Israel.
The new Vietnam-Israel Free Trade Agreement (VIFTA) removes 86% of tariffs on Vietnamese products and 93% of Israel products. Bilateral trade is targeted at $3 billion as a result of the new deal.
The agreement has 15 chapters on goods, services, investment, rules of origin, technical barriers to trade, sanitary and phytosanitary measures, customs, trade remedies, government procurement, and legal and institutional framework.
For Vietnam the deal could be an entry into the Middle East and North Africa and southern Europe whereas for Israel Vietnam could provide an entry into South East and West Asia. Israel already has an agreement with South Korea which was the first Asian nation to sign an FTA with Israel.
Featured image Omar Elsharawy via Unsplash