1.     G20 trade group meets in Jaipur
India is chairing the G20 this year under the theme 'One Earth, One Family, One Future.' Trade and investment ministers met in Jaipur this week to discuss digitising trade, SME inclusion in international trade, and the reform of the World Trade Organization.
Business and Trade Secretary Kemi Badenoch attended and launched 'Alive with Opportunity,' a £1.5 million marketing campaign designed to build on the UK and India's relationship and as part of the goal to bilateral double trade with India by 2030. India has grown to the world's fifth largest economy, from below tenth place a decade ago.
The meeting was attended by 300 ministers and delegation representatives.
Indian Prime Minister Modi proposed to include the African Union in the G20. The G20 countries represent around 85% of global trade in terms of value.
---
Trade Horizons advisors are market entry experts: our team of in-country experts assist companies to export, import and enter new locations by using strategies that have stood the test of time and evidence-based advice. Trade Horizons assists companies to plan to distribute and deliver goods or services to a new target market. Contact one of our experts today.
---
2.     UK Vietnam: 50 years of trade
The UK and Vietnam celebrate 50 years of diplomatic relations in 2023. The UK and what was the Democratic Republic of Vietnam established formal diplomatic relations in 1973.
The UK signed a free trade agreement with the Socialist Republic of Vietnam in 2020 which removed 65% of all tariff lines, increasing to 99% by 2027.
Bilateral trade came to £6.7 billion in the past year with UK exporting £1 billion and importing £5.7 billion. Vietnam is the UK's 40th largest trading partner.
The UK invested £785 million in Vietnam in 2021 and Vietnam invested £21 million in the UK in the same timeframe.
Vietnam has 14 FTAs with 52 countries globally. The UK has 38 FTAs with 94 countries.
---
3.     BRICS summit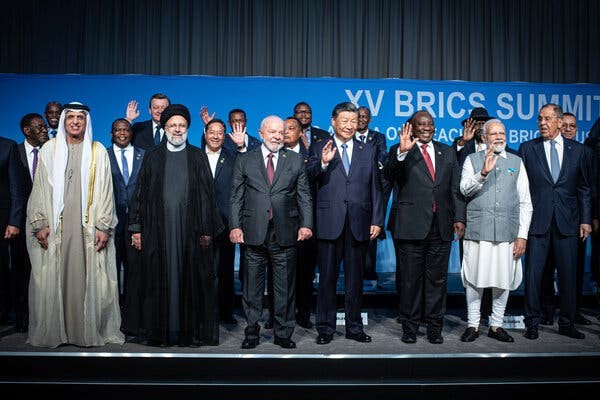 The BRICS countries, a group set up in 2009 consisting of Brazil, Russia, India, China and South Africa entered a three-day summit in South Africa recently.
Saudi Arabia, Iran, UAE, Argentina, Egypt and Ethiopia are apparently all to join which will double the size of the group and raise questions about China's influence in the Persian Gulf. Nigeria has not applied.
The Chinese and Russian Presidents did not attend to deliver their speeches. Xi Jinping's absence was a surprise that seems to have taken even Chinese media by surprise as they reported the speech as if Xi Jinping delivered it.
India and China met to de-escalate tensions about the disputed border around Ladakh and surrounding areas.
---
4.     Modi visits Greece
Prime Minister Modi is the first Indian Prime Minister to visit Greece in 40 years. He met with Greek Prime Minister Kyriakos Mitsotakis this week to discuss trade, business and defence. They discussed ports and focused on Piraeus, Greece's largest port. Athens is trying to position itself as India's 'gateway to the European Union.' In addition they discussed Adani the billionaire tycoon to purchase a port.
Diplomatic relations between Greece and India commenced in 1950. Greece exports totalled $339 million in 2021, mostly recovered paper. India exports totalled $1.43 billion, mostly raw aluminium.
The two countries announced they aim to double trade by 2030.
---
5.     US trade mission to Philippines
The United States Ambassador to the Philippines MaryKay Carlson recently announced a trade visit to the Philippines to focus on the agriculture sector.
She said that 7-8 delegates from US agriculture companies will travel to the Philippines to assess opportunities.
The US Philippines trade relationship goes back more than 100 years. In 1989 a free trade agreement was signed, TIFA. In 2020 US Philippines bilateral trade was worth $25.3 billion with $10 billion in US exports and $15.3 billion in US imports.
Top US exports to the Philippines are machinery, wheat and seeds. Philippines top exports to US are machinery, medical instruments and leather.
---
6.     India 'red tape' to 'red carpet'
In a now famous speech at the recent G20 summit, Indian Prime Minister Modi says India has moved from 'red tape to red carpet,' highlighting India's increase and success in attracting inbound foreign direct investment.
India has climbed up to fifth place in terms of economy size globally in the past decade.
FDI is reported to be $71 billion in 2023 financial year with computer hardware and software the top attracting sector. India's top exports are petrol, gems and vehicles.
Reuters reported that goods and services exports are expected to hit $900 billion in 2023 up from $770 billion the last year. Exports have increased by $200 billion in the past two years led by technology, agriculture and energy products.
---
7.     FDI and local participation
The inclusion of local content in the production processes of foreign owned businesses
Community economic development creates high-quality jobs, introduces modern production and management practices, strengthens local communities and improves the wellbeing of the host communities.
In terms of finance, foreign investments often remit earnings and profits back to the parent company and use transfer pricing to reduce tax in the host company.
More could be done by foreign firms to source primary materials and services locally which would produce a more beneficial outcome for local businesses.
Featured image Jal Mahal Jaipur Ravi Shekhar via Unsplash