1.     EY UK Attractiveness Survey
Number of FDI projects in UK was down 6% in 2022 according to the recently released UK Attractiveness Survey report by EY. Tech projects were down almost 25% even though UK was still first in Europe for tech FDI.
France had the greatest number of total projects. The UK had the greatest number of new projects.
The UK created the highest number of expected jobs at 47,000 followed by Spain with 39,000 and France with 38,000.
Notwithstanding the report results, 'disruptor' bank Revolut's founders have criticised the UK for its regulatory burden that stymies the free market, innovation, and competition. They said the US is a much better environment for business, apparently having forgotten the recent collapse of Silicon Valley Bank the UK had to bail out, due to the investments greatly decreasing in value and investors withdrawing large amounts of money.
Gaming company Activision has also criticised the Government for blocking a takeover by Microsoft which the Government said would negatively affect gamers due to lack of competition given Microsoft's dominant market position. Europe has approved the deal.
Read the EY UK Attractiveness Survey.
---
2.     EY Eu Attractiveness Survey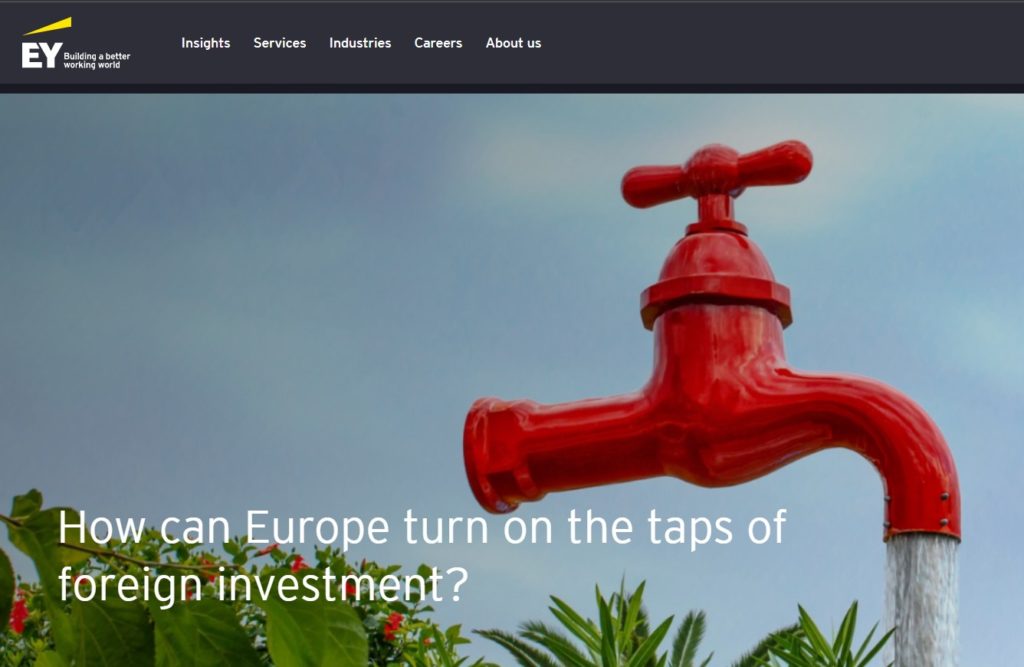 The EY European Attractiveness Survey says that European FDI growth is sluggish at 1% higher than last year and 7% lower than pre-pandemic levels.
France gained 3% more projects in terms of numbers and Germany 1% less. Europe consisting of 44 countries experienced 1% greater projects in 2022 than 2021. Overall Europe attracted 10% less projects than in 2017.
Energy prices, war, inflation, and public debt are cited as reasons for the decline. The financial crisis caused by COVID is generally accepted as the cause of the predicament.
Meanwhie Ireland attracted 21% more projects.
Software and IT projects grew by 8% and account for 20% of total projects.
Read the EY European Attractiveness Survey 2023.
---
Trade Horizons advisors are market entry experts: our team of in-country experts assist companies to export, import and enter new locations by using strategies that have stood the test of time and evidence-based advice. Trade Horizons assists companies to plan to distribute and deliver goods or services to a new target market. Contact one of our experts today.
---
3.     Portugal #2 in Europe
In Europe, Romania attracted the most FDI in 2022 followed by Portugal. Portugal reports 24% more projects than in 2021 at 248 in number, according to the EY European Attractiveness Survey.
Romania reported 86% more projects than the previous year.
The World Investment Report 2022 reports that the number of FDI projects in Portugal is still 25% below pre-pandemic levels, however.
Portugal's top exports are cars & vehicle parts, petrol and footwear. Portugal's top trading partners are Spain, France, Germany and the US. Portugal is the world's largest provider of cork and cork products.
Portugal is ranked 39 in the World Bank's Ease of Doing Business Report 2019.
---
4.     MENA FDI
The Middle East is the fastest growing region for FDI according to Investment Monitor. South Africa, Qatar, Egypt, Saudi Arabia and Qatar were the 5 countries that attracted the most investment in the region.
FDI in the Middle East grew 13.6%. Europe, Asia, and America are the three top regions that attract the most FDI. Globally, greenfield FDI is expected to fall in 2023.
The top export of the Middle East is oil and petroleum followed by gold.
On the World Bank Ease of Doing Business Report 2019 Saudi Arabia scored 63, Qatar 77, South Africa 84, and Egypt was 114.
Top projects in the region include a Saudi Arabia a British metal processing plant and Indian green hydrogen production in Egypt.
---
5.     Middle East FDI report
A new Investment Monitor report on Greenfield Foreign Direct Investment into Middle East and Africa says that UAE attracted the greatest amount of new projects followed by Saudi Arabia and South Africa. Dubai was the top city and accounted for 80% of FDI into the UAE. Riyadh, Doha and Nairobi were the next three top cities with Nairobi experiencing the largest increase in projects.
In terms of sectors, software and IT ranked top followed by professional services, communications and financial services.
---
6.     Australian green hydrogen, Florida bans Chinese
Australia has announced plans to become a hydrogen superpower in its latest budget with $4 billion total spending. $2 billion will be spent on a programme called Hydrogen Headstart which focuses on large scale hydrogen projects and a goal to attract $10 billion investment to become a hydrogen world superpower. Australia is one of the sunniest countries on earth which may assist with green hydrogen production. They just want to be sure not to repeat Japan's mistakes, whose hydrogen strategy is well known to be a large failure due to the inability to create a new strategy but rather run the new clean energy strategy alongside the old fossil fuel one, without committing to decrease fossil fuels.
In more news, Florida banned Chinese investors and is looking to avoid Chinese servers altogether.
China has invested more than $2 billion in Afghanistan.