1.     FDI winners
Between January and August 2023, six countries have set new records for foreign direct investment (FDI). These countries are:
Morocco: The Kingdom attracted almost $34bn worth of greenfield FDI projects, double the previous all-time high of $15.8bn set in 2008. The North African country has seen an influx of inward investment from Chinese companies, particularly in the electric vehicle (EV) supply chain.
Malaysia: The country recorded about $28bn worth of FDI projects in 2023, more than double the annual average recorded in the decade before the pandemic.
Iraq
Israel
Democratic Republic of Congo
Finland
These countries recorded planned greenfield FDI projects worth more than any twelve-month period in the past.
In addition to these six countries, another five countries – Saudi Arabia, Chile, Ukraine, Botswana and Slovenia – have recorded their largest announced FDI since before the global financial crisis ended in 2009.
---
Trade Horizons advisors are market entry experts: our team of in-country experts assist companies to export, import and enter new locations by using strategies that have stood the test of time and evidence-based advice. Trade Horizons assists companies to plan to distribute and deliver goods or services to a new target market. Contact one of our experts today.
---
2.     Alabama manufacturing steams ahead
Alabama has several strengths that make it attractive for investment in the manufacturing industry:
Diverse Growth Strategy and Top-Notch Workforce Training: Alabama is known for maximizing resources and having a diverse growth strategy. The state also offers top-notch workforce training, which is a crucial factor for manufacturing industries.
Pro-Business Attitude: Alabama has a pro-business attitude and offers custom incentive packages tailored to a company's individual needs. This supportive environment is conducive to the growth and expansion of businesses.
Geographical Advantage: Alabama's varied geography, from mountains and valleys to beaches and riverbanks, makes it one of the most geographically diverse states in the country. This diversity can be an advantage for businesses in terms of logistics and infrastructure.
Expanding Automotive Manufacturing Industry: Since the 1990s, much of Alabama's economic growth has been due to the state's expanding automotive manufacturing industry. Major automotive manufacturers such as Honda, Hyundai, Mercedes-Benz, and Toyota have manufacturing plants in the state, along with their various suppliers.
Accessible Minerals: Alabama has a wealth of accessible minerals such as limestone, salt, quartz, and iron ore. These resources can be beneficial for certain manufacturing industries.
Infrastructure: Alabama boasts a network of thousands of roads, plentiful airports, inland waterways, and proximity to the 9th largest seaport in the U.S., making it easily accessible.
These factors collectively contribute to Alabama's strength in attracting investment in the manufacturing industry.
There have been several recent announcements about the manufacturing sector in Alabama:
Navistar Inc.: On October 18, 2023, Navistar Inc. announced the production launch of its new International S13 Integrated powertrain at the company's Alabama manufacturing facility. This marks the culmination of a growth project that has already added significant value.
Colclasher Enterprises LLC: On October 17, 2023, Colclasher Enterprises LLC, a plastic pipe manufacturer, officially announced plans to invest $9 million to establish a production facility in Selma's Craig Industrial Park². This is part of a project that will bring new jobs to the region.
BASF: On October 25, 2023, BASF Environmental Catalyst and Metal Solutions (ECMS) celebrated two major milestones at its Huntsville catalyst plant.
Airbus: On October 19, 2023, Alabama officials congratulated Airbus for progress on a growth project launched last year.
These announcements reflect the ongoing growth and development of Alabama's manufacturing sector.
---
3.     Toyota $8bn North Carolina battery plant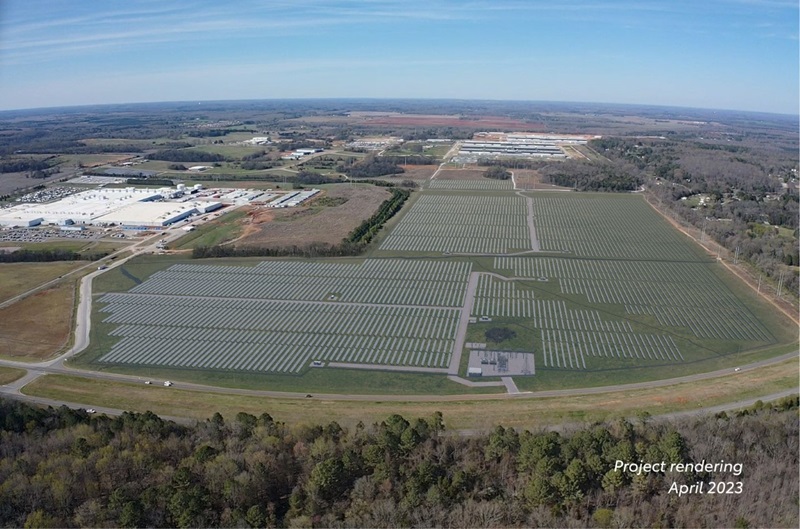 Toyota has recently made a significant announcement regarding its new plant in North Carolina. Here are the key details:
Investment: Toyota announced a new investment of nearly $8 billion. This is in addition to the initial investment, more than doubling its prior investments.
Job Creation: The new investment will add approximately 3,000 jobs at Toyota Battery Manufacturing North Carolina (TBMNC). This brings the total number of jobs created to 5,000.
Manufacturing Focus: The plant will focus on the production of hybrid and electric vehicle batteries. This new investment will increase capacity for electric vehicle battery production and will add new capacity to also produce batteries for plug-in hybrid vehicles.
Expansion: The investment will add eight production lines to the two lines previously announced.
This historic announcement reflects Toyota's commitment to electrification and carbon reduction, and it enables jobs and future economic growth for the region.
---
4.     EU South Korea digital trade talks begin
The European Union and the Republic of Korea have long-standing and robust economic relations, underpinned since 2011 by the EU-Korea Free Trade Agreement.
In June 2023, the two parties held the first Digital Partnership council in Seoul, agreeing on key objectives in various areas.
On October 31, 2023, they agreed to launch negotiations for a digital trade agreement. The agreement aims to provide legal certainty for businesses and consumers engaged in digital trade. It seeks to enhance protection in digital transactions and foster an open, free, and fair online environment.
The agreement will cover areas such as semiconductors, High Performance Computing (HPC), quantum technology, 5G and beyond, platform economy, artificial intelligence (AI), and cybersecurity. The agreement is expected to contribute to the digital transformation of societies in both regions.  It aims to support job creation and empower companies, notably micro, small, and medium-sized enterprises, to participate in the global economy. It also seeks to respond to online consumer needs and foster innovation.
The agreement is seen as a way to counter digital protectionism and play a leading role in setting digital trade rules that are future-proofed as well as responsive to innovation and emerging technologies.
---
5.     Kemi Badenoch $1.4 TRILLION Florida trade deal
Kemi Badenoch, the Business and Trade Secretary, announced that she will be signing a major trade deal with Florida in two weeks' time. This trade deal is worth $1.4 trillion.
Florida, with a GDP of £1.1 trillion ($1.4 trillion), is America's fourth biggest economy and would be in the top 15 economies in the world if it was a separate country. The deal is expected to transform Britain's fortunes after leaving the EU.
Experts have said that deals with US states are in many ways more valuable to the UK than a single federal trade deal with America which President Biden has blocked because it gives Britain access to the service industry. Marco Forgione, director general of the Institute of Export and International Trade (IoE&IT) has pointed out previously that 80 percent of the UK economy is made up of the service industry and a US deal could not provide it access to the American markets while state deals can.
This agreement represents a significant step forward in international trade relations.
---
6.     UK-Turkey Trade: new era?
UK Turkey trade is coming under focus recently. Here are some recent initiatives.
New Trade Agreement: The UK and Turkey have announced their intentions to negotiate a new free trade agreement. This new agreement aims to replace the existing UK-Turkey FTA, which was rolled over from when the UK left the European Union and doesn't cover key areas of the UK economy like services, digital, and data.
Call for Input: On 2 November 2023, the UK government launched a 'Call for Input' seeking views from businesses and the wider public on UK negotiation objectives for a new, modernised free trade agreement (FTA) with Turkey.
Trade Volume: Trade between the two countries reached £26 billion in the 12 months to June 2023, making Turkey a top 20 trading partner for the UK.
4. Existing FTA: The UK and Turkey have an existing FTA which is based on outdated provisions from the 1990s negotiated when the UK was a member of the EU, and only covers goods.
Modernised FTA: The UK is committed to negotiating a new, modernised FTA that is fit for the 21st century and covers sectors such as services, tech and digital.
Business Involvement: The Call for Input will give businesses, organisations, and individuals the opportunity to shape the UK's negotiating aims ahead of talks and ensure the updated trade deal is tailored to the strengths and priorities of British businesses.
Trade Growth: The trading relationship between the UK and Turkey has been thriving, with trade up more than 17% in current prices in the last year alone.
Opportunities for UK Companies: Turkey's thriving tech, manufacturing, transport, and infrastructure sectors have generated a surge in demand for international expertise in recent years, presenting significant opportunities for UK companies.
IoD International Trade Group is hosting an event on UK-Turkey trade this Thursday at Guildhall. Free event, sign up here
---
7.     ASEAN Sec Gen visits UK
ASEAN, an abbreviation for the Association of Southeast Asian Nations, is a political and economic union of 10 states in Southeast Asia. Its member states include Brunei, Cambodia, Indonesia, Laos, Malaysia, Myanmar, the Philippines, Singapore, Thailand, and Vietnam⁵. Together, these states represent a population of over 600 million over a land area of 4.5 million km.
The primary objectives of ASEAN are to accelerate economic growth, social progress, and cultural development in the region, and to promote regional peace and stability through abiding respect for justice and the rule of law in the relationship among countries in the region and adherence to the principles of the United Nations Charter.
The bloc has broadened its objectives beyond economic and social spheres, aiming to establish a shared security regime. ASEAN engages with other entities in the Asia-Pacific region.
The UK and ASEAN have a significant trade relationship and recent developments indicate a strengthening of the relationship between the UK and ASEAN, with a focus on shared priorities and cooperation in various areas.
ASEAN-UK Dialogue Partnership: The UK has agreed on a new partnership with the Association of Southeast Asian Nations (ASEAN), which is the first ASEAN has agreed in 25 years. This partnership will lead to closer cooperation between the UK and the region on a range of issues such as trade, investment, climate change, the environment, science and technology, and education.
Trade Growth: Over the last ten years, trade between the UK and ASEAN has grown by almost 70% to just under £42 billion⁴. In 2019 alone, trade in goods and services rose by over ten percent. The UK is one of the top 10 investors in ASEAN.
Future Prospects: The U.K.'s new partnership with ASEAN fosters an environment supportive of increased trade flows, secure supply chains, expanded cross-border investments, and generally sustainable development. Other initiatives are also aimed at establishing a long term strategic program of mutual economic support across a wide range of important sectors.
The Secretary-General of ASEAN, Dr. Kao Kim Hourn, visited the UK recently. His visit began on 1 November 2023 and lasted for three days. This marked the first time the Secretary-General has visited any European country in his role. During his visit, he discussed the breadth of the ASEAN-UK relationship with Deputy Prime Minister Oliver Dowden and four other UK Ministers.
---
8.     Economic Incentives for Foreign Companies Entering the U.S.
Economic incentives for foreign companies entering the U.S. can take various forms:
Tax Credits, Rebates, and Exemptions: These incentives can help businesses reduce their tax liabilities.
Direct Grants: These are cash awards given to businesses, often based on job creation, capital investment, or the achievement of specific targets.
Forgivable Loans: These are loans that do not need to be repaid if certain conditions, such as job creation or capital investment targets, are met.
Infrastructure and Site Development Aid: This can include assistance with site preparation, provision of utilities, or construction of access roads.
Loan Support: This can include loan guarantees or interest rate subsidies.
Job Training Initiatives: These programs can provide funding to help businesses train their workforce.
Green Technologies and Sustainable Practices Programs: These programs can provide funding or other support for businesses that adopt environmentally friendly technologies or practices.
Foreign Derived Intangible Income (FDII): The Tax Cuts and Jobs Act (TCJA) introduced a preferential tax rate on a corporation's FDII, which depends on its domestic income derived from foreign use. It aims to encourage multinationals to locate their intangible income in the U.S. by taxing it at a lower rate of 13.125 percent through a 37.5 percent deduction.
These incentives can provide significant financial support to foreign companies looking to establish operations in the U.S., helping to minimize upfront costs and speed up the timeline to profitability. However, it's important to note that these incentives are typically tied to specific projects and are not necessarily offered for all projects.
Featured image Zakariae Daoui via unsplash