The latest India Meets Britain Tracker, produced by Grant Thornton UK LLP and the Confederation of Indian Industry, gives a fantastic snapshot of the fastest-growing Indian companies in the UK.
According to the report, 62 companies achieved an annual growth rate of 10% or more this year. Between them, these fast-growing companies earned total revenues exceeding £12 billion – more than double the £6 billion achieved in 2018. Technology and telecoms companies continue to dominate, with London being the preferred location for more than half.
Commenting on the report, Gillian Kerr from Trade Horizons, said: "In the last 5 years, we have seen a real change in the type of Indian companies entering the UK.
"Nowadays, our clients are founders, CEOs and companies who are mature international business people, who take a long term view on investing in the UK.
"Their focus is often to become a global company servicing customers around the world, recognising that often this strategy starts with showing they can succeed either in the UK or US.
"They are prepared to invest in getting their strategy right and in finding the right people with the right skillset to achieve their ambitions, as well as investing a lot in innovation to distinguish their product or service offering.
"We've enjoyed working with such clients in recent years, spanning a diverse mix of sectors; from pharmaceutical to business services, and increasingly technology.
"This shrewd approach will make India a global leader in many sectors in the years to come."
Download the full Tracker report here: https://www.grantthornton.co.uk/en/insights/indian-companies-contribution-to-the-uk-economy-surges/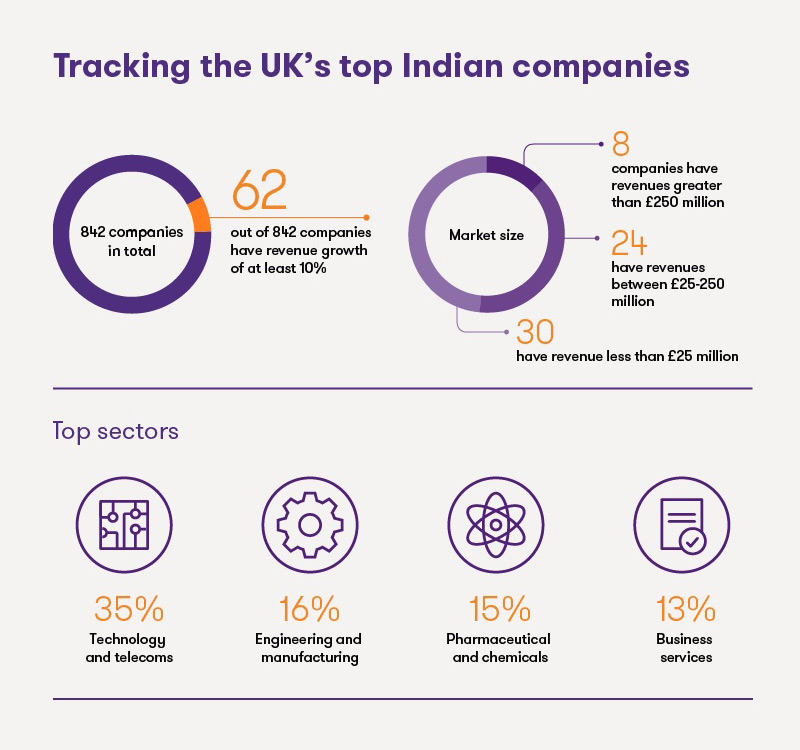 Image: India meets Britain Tracker 2019
Trade Horizons, established in 2013, helps small businesses to fulfil their international expansion goals. With clients coming from across the world – including India, China, the US and Europe – Trade Horizons helps ambitious companies to successfully establish themselves in new markets. This includes those who wish to expand into the UK and to use it as a launch pad into Europe, and also UK-based companies looking to trade internationally.
Interested in expanding your business into new markets? Call the Trade Horizons team on +44 333 210 0737 or email info@tradehorizons.com