1.     German FDI into Africa stagnant
2021 saw German companies investing $1.6 billion in Africa which is a drop from 2016-2020 at $9.7bn and much less than France or the UK. Headlines report the number should be higher – only 1% of Germany's global FDI ends up in Africa. China's investments increase 40x year on year, but that has not been without its own issues.
We also read that the new EU initiative Global Gateway which would rival the Chinese Belt and Road initiative. The new Global Gateway would invest Euro 150 billion in the African market.
We also read about Germany's approach to Namibia to fund a Euro 10 billion green hydrogen fund which would ship clean energy to Europe. This would diversity the green energy supply chain away from China which dominates the market as a producer of materials such as solar panels. Since the Ukraine war Germany has reduced energy reliance on Russia drastically as of when Russia turned off the pipeline.
Germany needs to import 5 million tonnes of green hydrogen in 2025 if green hydrogen is to work, and has approached major African nations.
---
2.     US green policy sparks EU dissent
Biden took a leaf out of Europe's book and passed the Inflation Reduction Act which effectively provides $369 billion package in green subsidies to American businesses. It's a much loved European policy to subsidise topics it wants to grow but the move has angered Europe in a transatlantic spat where Europe is citing foul play due to the unfair benefit it would give American businesses.
Ursula von Leyen says the policy 'unlevels the playing field' but it's what Europe does best – funds ideas into fruition at the expense of unfunded regions. The USA specifies that parts and products must be manufactured in the US which would potentially see an influx of manufacturers and ultimately FDI from global players looking to cash in on the green wave.
---
3.     UK South Korea FTA talks
The UK has launched an 8 week consultation on a South Korea free trad agreement which will apparently bolster digital trade. Bilateral trade is worth £14.3bn as it stands with the UK exporting £1.4bn i.e. around £13bn UK deficit.
South Korea is the 10th largest world economy. Key exports include semiconductors which are now in global shortage and ships.
Call for input is open now, submit your feedback before 2 February 2023
The UK will provide adequate status to South Korea regarding data privacy which means UK companies will be able to transfer personal data with South Korea.
---
4.     EU Chile trade deal
Chile and the EU have negotiated a new trade deal which will replace the existing deal that was negotiated 20 years ago. The new deal will remove most tariffs for example on raw materials.
The EU is Chile's third largest trading partner with main Chilean exports being vegetables and raw materials. The crown jewels for Europe is Chile's lithium deposits which is the rarest and most important component in electric car batteries. If the EU can secure Chile's lithium it will leave the US wanting lithium – this especially relates to the make in US policy, we wrote about in the article above. This will leave the US having to buy lithium from Australia which has 60% of the world's lithium resources; and with which the US already has a free trade deal.
Cynics can perhaps see why Chile is a strategic deal for the EU given its outrage at the recent US policy. Indeed some Australian papers reports the deal as good news for ASX metals stocks whether by interests in Chile (as some do) or … other reasons.
---
5.     Ohio here we come
A recent Investment Monitor Report says that Ohio could be a great place to do business, especially in the manufacturing sector. Another article outlines the strength of the manufacturing sector in Ohio and even includes details on tax incentives, probably funded by the aforementioned Biden's IRA, including the Ohio Job Creation Tax Credit. LINK
The UK is the 4th largest importer for goods from Ohio. The largest cities are Columbus, Cincinnati and Cleveland at the base of the Appalachian mountains.
Recently a new initiative was announced ARCH2 which aims to bring together Ohio, West Virginia, Pennsylvania and Kentucky in the production of clean hydrogen, probably in response to Bidens IRA.
Now is the time for clean energy and clean energy tech in the US since the introduction of the Act – this is just the beginning.
---
6.     COP15 in Montreal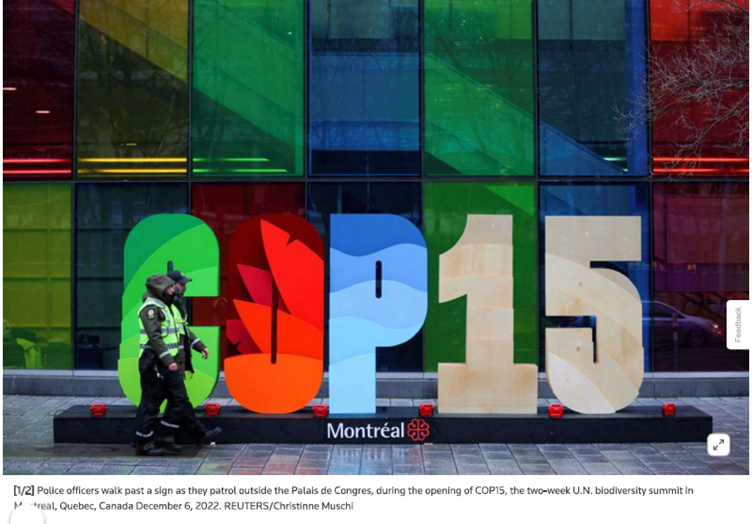 COP15 recently kicked off in Montreal with a focus on sustainability. Nicknamed the biodiversity COP, the UN has just recently announced it will be setting up shop in Montreal focused on sustainable cities.
The event wasn't without controversy though with developing nations walking out of the summit due to arguments over funding, and probably increased regulation.
It's always a balance between national interests and global regulation – case in point being the recent Amazon rainforest fires – but the topic of a global playing field without blanket rules or funding commitments left a bitter taste in poorer nations' mouths. Much biodiversity is located in poorer countries.