United States top EU investor
The United States topped inward investment into Europe charts in 2020 with US investments accounting for a quarter of foreign inward investment in Europe.
The US invested €752 billion out of a total €2 990 billion in 2020. The next largest investor was Germany followed by France and the United Kingdom.
In 2021, Netherlands was the second largest recipient of outward FDI from the United States, with Japan topping the list at number 1. Canada was third followed by the UK then Germany, Luxembourg, Switzerland and France.
---
Ireland FDI up

Inward investment in Ireland increased by €109bn to €1,208bn in 2021 with the United States the largest source of inbound investment. The US increased its investment in Ireland by €179bn.
The services sector received 61% of total investment. Investment in employment was up 9% in 2021 with 103 new projects reported. 1,600 foreign companies reside in Ireland which employ 250k people in sectors such as technology, life sciences, financial services, engineering & services.
IDA Ireland the government body for FDI released a report on FDI 2021-2024 naming key pillars and strategy, read the report here.
---
2023 Forecast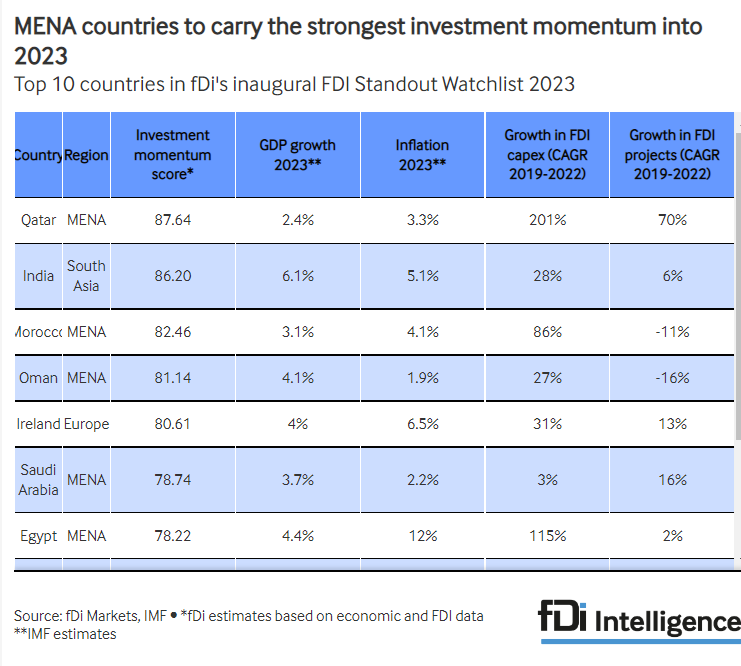 fDi intelligence has released a report on top FDI countries in 2023 based on IMF data. It predicts continued geopolitical uncertainty leading to further global decreases with some standout countries.
Top predicted performers are expected to be Qatar at the top then India followed by Morocco, Oman and Ireland. MENA countries dominate the top 10.
Qatar attracts investment into oil & gas sector, financial services and technology. Inward FDI into India is expected to break records in 2023 mostly in R&D with 188 projects announced – the second next R&D title is United States with just 90 – also semiconductors and service sector projects.
---
Hybrid working: Government report
The UK Government has carried out a consultation and released a subsequent report on the impact of hybrid and remote working practices on the economy.
The research reflects the change in working practices since the pandemic with a great many more people working remotely since 2020.
The report only considers hybrid workers not working from home in the traditional sense. It mostly deals with allowances, tax and social security implications for hybrid working and cross border arrangements.
It concludes that currently some policies and legislation need review to achieve fair and efficient arrangements given the change in working practices.
Read the report here.
---
Semiconductors in India
Semiconductor manufacturing consumes an extremely large amount of water. A large chip factory requires 10m gallons or 38m litres per day which is enough to supply 280k households.
India has announced its intention to become a semiconductor manufacturing world hub however intense water requirements may put pressure on the plans.
An Israeli company has recently announced its intention to construct a factory starting from February 2023 and a JV between Indian Vedanta and Taiwanese FoxConn recently invested $19.5bn into a plant in Gujarat.
The India Semiconductor Mission ISM is part of the Make in India strategy set out under Prime Minister Modi who has plans for India to become a semiconductor global hub.
A medium semiconductor factory uses around the same energy as 50k homes in one year. Considering the power shortage in India it may take longer than expected for the Indian semiconductor sector to grow to full potential.
---
Cars: Made in Bangladesh
Bangladesh is the most densely populated country in the world with a population of 165m in an area the size of Iowa.
The Bangladeshi Government announced in 2021 its intentions to become a notable global automobile manufacturing nation in its Automobile Industry Development Policy. Traditionally Bangladesh was an assembly country which built cars from imported components originating in other countries, limiting the benefit to the country due to low margins.
There are 30 automotive companies in Bangladesh including Mahindra and Volkswagen.
Bangladesh offers attractive incentives for car manufacturers including zero VAT, no duty, no advance tax on imports and no corporate tax until 2030 – a package that significantly impacts its chances to transform the country into an important automobile manufacturing country. There are several other substantial benefits offered to car manufacturers to kick start the industry.
Made in Bangladesh Hyundai cars are set to hit the road next year with the new Creta model recently unveiled in the country. The Bangladesh Government has stated it aims to increase the industry by 10 times by reducing the cost so more families can afford to buy one, and exporting.
---
Australia-India trade deal
Australia and India have signed a free trade deal which removes tariffs on 85% of Australian goods exported to India including minerals, lamb, wool, cotton, oats and cosmetics. The India-Australia Economic and Cooperation Trade Agreement came into force on 29 December 2022.
Australia has the world's 6th largest reserves of rare earth minerals which could be crucial to India's intention to become a semiconductor-manufacturing location. Australia has announced its intention to "diversify sources of important minerals away from China" to address China's dominance.
The trade agreement will reduce tariffs on Indian exports into Australia such as gems, jewellery, textiles, leather, footwear, furniture, food and agricultural products, engineering products, medical devices, automobiles, and medicines.
Bilateral trade between Australia and India has increased to $24bn in 2020 from £13bn in 2007.